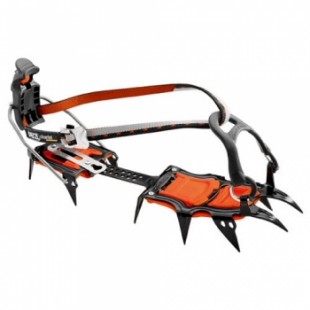 Crampons Petzl Vasak Leverlock
Crampons Petzl Vasak Leverlock
1,496.00DH
In Stock: 6 available
VASAK LEVERLOCK
Classic 12-point mountaineering crampon
For general purpose mountaineering, VASAK crampons are ideal. Twelve points ensure maximum traction in all conditions, whether you are climbing up steep slopes or ice couloirs. Available in all four lightweight binding systems for solid boot interface.
The length of the points is designed for maximum stability without having to high-step
Sharp points for great purchase in ice
Two wide front points for purchase in snow, reinforced for rigidity
Second row of teeth angled towards the front for support when front-pointing
Third row of points to optimize bite on hard snow slopes
Four teeth for stability while descending face downhill
Lateral points for purchase while traversing
Linking bar can be set for flexible or semi-rigid modes to adapt the crampon to flexible or rigid boots
Weight : 2 x 490 g = 980 (with ANTISNOW) g
Multi-mount system : LEVERLOCK
VASAK LEVERLOCK
Crampons alpinisme classique de 12 points
Pour l'alpinisme polyvalents, crampons VASAK sont idéales. Douze points assurer une traction maximale dans toutes les conditions, que vous montent vers le haut des pentes raides ou couloir de glace. Disponible dans tous les systèmes de liaison léger quatre d'interface d'amorçage massif.
La longueur des points est conçue pour une stabilité maximale sans avoir à haute-étape
Pointes acérées pour achat grand dans la glace
Deux points avant large pour achat dans la neige, renforcé pour la rigidité
Deuxième rangée de dents inclinées vers l'avant pour la prise en charge lorsque recto-vers
Troisième rangée de points afin d'optimiser la morsure sur les pentes de neige durcie
Quatre dents de stabilité tout en descendant le visage en descente
Points latéraux pour achat lorsque vous traversez
Barre de liaison peut être définie pour les modes souples ou semi-rigides adapter le crampon à bottes rigides ou flexibles
Poids: 2 x 490 g 980 (avec ANTISNOW) g
Système de montage multiple : LEVERLOCK
VASAK LEVERLOCK
Crampones de alpinismo clásico de 12 puntos
Para alpinismo de propósito general, crampones VASAK son ideales. Doce puntos garantizan máxima tracción en todas las condiciones, si están subiendo cuestas escarpadas o corredores de hielo. Disponible en todos los sistemas de enlace ligero cuatro para interfaz sólido arranque.
La longitud de los puntos está diseñada para una máxima estabilidad sin necesidad de paso alto
Filos para gran compra en hielo
Dos puntos delanteros ancho para su compra en nieve, reforzado para la rigidez
Segunda fila de dientes inclinado hacia delante para apoyo cuando hacia la parte delantera
Tercera fila de puntos para optimizar la mordida en pendientes de nieve dura
Cuatro dientes para la estabilidad durante el descenso cara cuesta abajo
Puntos laterales para compra mientras atraviesa
Barras pueden ajustarse para que modos semi rígidos o flexibles adaptar el crampón a botas flexibles o rígidos
Peso: 2 x 490 g 980 (con ANTISNOW) g
Sistema de montaje multi: LEVERLOCK
فاساك ليفيرلوك
تسلق الجبال المكونة من 12 نقطة الكلاسيكية كرامبون
لتسلق الجبال للأغراض العامة، والأشرطة فاساك مثالية. اثنتا عشرة نقطة ضمان الجر القصوى في جميع الظروف، ما إذا كان يمكنك تسلق أعلى المنحدرات الشديدة أو الجليد كولويرس. متاح في جميع أنظمة ملزمة خفيفة الوزن أربعة لواجهة التشغيل الصلبة.
طول النقاط التي صمم لأقصى قدر من الاستقرار دون الحاجة إلى خطوة عالية
النقاط الحادة لشراء كبيرة في الجليد
نقطتين جبهة واسعة للشراء في الثلج، معززة للصلابة
الصف الثاني من الأسنان الزاوية نحو الجزء الأمامي للدعم عند الإشارة الأمامي
الصف الثالث من النقاط تحسين لدغة على منحدرات الثلج الثابت
أربع أسنان للاستقرار في حين تنازلي الوجه انحدار
نقطة جانبية للشراء بينما كانت تعبر
يمكن تعيين شريط ربط لأوضاع شبه صلبة أو مرنة التكيف مع كرامبون بأحذية مرنة أو جامدة
الوزن: ز ز 2 × 490 980 (مع أنتيسنوو)
نظام متعدد جبل: ليفيرلوك