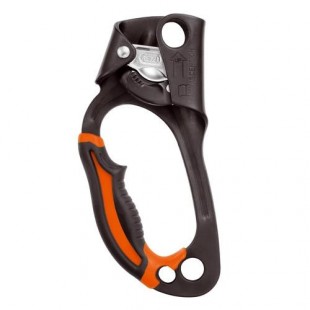 AscendersAscendantesAscendentesصواعد
AscendersAscendantesAscendentesصواعد
605.00DH
In Stock
ASCENSION
Ergonomic handled ascender
Our handled ascenders have been refined to provide greater comfort, efficiency, ease of use. The ergonomically shaped handle is over molded with dual density grip for greater friction and better grip. The grip is wider at the bottom, providing better comfort for your pinkie fingers during use. The index finger indent has also been increased, offering greater efficiency when pulling on the ascender. The cam has been redesigned to minimize friction when sliding the ascender up the rope while the angled teeth provide secure grip in the worst conditions (wet, icy, or muddy ropes). The geometry of the single piece aluminum frame ensures optimal handle orientation when the device is loaded and will maintain solid, comfortable performance for ascents of any length.
– Molded grip provides even greater comfort with a more ergonomically shaped handle. This shape keeps your hand from sliding to the bottom of the frame each time you pull on the ASCENSION. The bi-material handle includes a rubber over molded grip, increasing the comfort and grip in wet or icy conditions.
– Chrome-plated steel cam with angled teeth and self-cleaning slot securely grips the rope, even in muddy or icy conditions
– Ergonomic trigger allows one-handed installation and removal
– Mono-frame construction eliminates weaknesses and keeps the ascender lightweight and durable for years of use
– The two attachment points allow for different uses (e.g. self- belaying, hauling systems, etc.)
– Anodized frames are color coded for easy identification (black -left / gray -right)
– Safety catch prevents the cam from opening too far, helping to keep the rope captured for added safety
– 1 cm secondary hole at the bottom will accommodate a screw link for attaching aiders, slings, etc.ASCENSION
Hampe manche ergonomique
Notre gérés ascendantes ont été améliorés pour fournir un plus grand confort, efficacité, facilité d'utilisation. La poignée ergonomique est plus moulée avec poignée double densité pour une plus grande friction et meilleure adhérence. La poignée est plus large en bas, prévoyant vos doigts auriculaire meilleur confort pendant l'utilisation. Le tiret de doigt d'index a également été augmenté, offrant une plus grande efficacité en tirant sur la poignée. Le cam a été redessinée pour minimiser la friction lorsque vous faites glisser la poignée vers le haut de la corde, tandis que les dents inclinées fournissent une préhension sûre dans les pires conditions (cordages mouillés, glacés ou boueux). La géométrie du cadre monobloc en aluminium assure l'orientation poignée optimale lorsque l'appareil est chargé et maintiendra une performance solide et confortable pour les ascensions de n'importe quelle longueur.
Poignée moulée fournit encore plus de confort avec une poignée plus ergonomique. Cette forme garde la main de glisser vers le bas de l'image chaque fois que vous tirez sur l'ASCENSION. La poignée bi-matière comprend un caoutchouc sur la poignée moulée, augmentant le confort et l'adhérence en conditions mouillées ou glacées.
Came en acier chromé avec dents inclinées et fente autonettoyante agrippe fermement la corde, même dans des conditions boueuses ou glacées
Gâchette ergonomique permet une installation avec une seule main et retrait
Mono-charpente élimine les faiblesses et garde l'ascendante, léger et durable pendant des années d'utilisation
Les deux points d'attache permettant différentes utilisations (p. ex. auto-assurage, transportant des systèmes, etc..)
Cadres anodisés sont couleur codée pour faciliter l'identification (noir – gauche gris – droite)
Taquet de sécurité empêche la came d'ouvrir trop loin, aider
pour garder la corde capturée pour plus de sécurité
le trou secondaire 1 cm en bas pourra accueillir un lien de vis pour la fixation des secouristes, élingues, etc.ASCENSIÓN
Bloqueador de mango ergonómico
Nuestros manejados ascendentes han refinado para proporcionar una mayor comodidad, eficiencia, facilidad de uso. El mango ergonómico es más moldeado con empuñadura de doble densidad para mayor fricción y mejor agarre. El agarre es más ancho en la parte inferior, proporcionando mayor comodidad en los dedos meñique durante el uso. El guión del dedo índice también ha aumentado, ofreciendo una mayor eficacia cuando se tira en el ascendente. La cámara ha sido rediseñada para minimizar la fricción al deslizar el bloqueador de la cuerda mientras que el ángulo dientes proporcionan un agarre seguro en las peores condiciones (cuerdas mojadas, hielo o fangosas). La geometría de la estructura de aluminio de pieza única asegura manija óptima orientación cuando el dispositivo está cargado y mantendrá funcionamiento sólido, cómodo para ascensos de cualquier longitud.
Empuñadura moldeada proporciona mayor comodidad con un mango más ergonómico. Esta forma evita la mano deslizando hacia la parte inferior del bastidor cada vez que saca la ascensión. El mango bimaterial incluye una goma moldeada grip, aumentando el confort y agarre en condiciones húmedas o heladas.
Leva de acero cromado con ranura autolimpiable y ángulo dientes agarra firmemente la cuerda, incluso en condiciones de Barrosa o heladas
Gatillo ergonómico permite Desmontaje e instalación con una sola mano
Mono-estructura elimina las debilidades y mantiene el ascendente ligero y durable para años de uso
Permitan que los dos puntos para diferentes usos (por ejemplo self-aseguramiento, acarreo, etc..)
Marcos anodizados son color cifrado para la identificación fácil (negro – izquierda gris – derecha)
Pestillo de seguridad evita que la leva de apertura demasiado lejos, ayudando a
para mantener la soga capturada para mayor seguridad
el orificio secundario 1 cm en la parte inferior puede acomodar un enlace de tornillo para la fijación de estribos, eslingas, etc..أسنشن
الصاعد التعامل معها مريح
وكانت لدينا صواعد معالجة المكررة توفير قدر أكبر من الراحة والكفاءة وسهولة الاستخدام. هو أكثر مصبوب مقبض على شكل هندسيا مع قبضة الكثافة المزدوجة للاحتكاك أكبر وأفضل من قبضة. القبضة أوسع في الجزء السفلي، توفير أفضل راحة لاصابعك خنصر أثناء الاستخدام. تم أيضا زيادة المسافة البادئة السبابة، تقديم قدر أكبر من الكفاءة عند سحب على الصاعد. وقد أعيد كام تقليل الاحتكاك عندما ينزلق الصاعد يصل الحبل بينما تقدم الأسنان المائلة قبضة آمنة في أسوأ الظروف (الرطب، الجليدية، أو الموحلة الحبال). هندسة الإطار الألومنيوم قطعة واحدة يضمن التعامل الأمثل مع التوجه عندما يتم تحميل الجهاز وسوف تحافظ على أداء متين ومريح لصعود من أي طول.
قبضة مصبوب يوفر راحة أكبر مع مقبض على شكل أكثر هندسيا. يبقى هذا الشكل يدك من الانزلاق في كل مرة تقوم بسحب على الصعود على الجزء السفلي من الإطار. التعامل مع المواد ثنائية تتضمن مطاط عبر قبضة مصبوب، زيادة الراحة وقبضة في ظروف رطبة أو الجليدية.
مطلي بالكروم الصلب كام مع الأسنان المائلة وفتحه التنظيف الذاتي السيطرة بشكل أمن الحبل، حتى في الظروف الموحلة أو الجليدية
الزناد مريح يسمح التثبيت بيد واحدة وإزالة
مونو-الإطار البناء يزيل نقاط الضعف، ويحتفظ الصاعد خفيفة الوزن ودائم لسنوات استخدام
النقاط اثنين من المرفقات التي تسمح للاستخدامات المختلفة (مثل المتمتعة بالحكم الذاتي-جلستك، وإحالة النظم، إلخ.)
إطارات المؤكسد لوناً مميزاً لسهولة تحديد (أسود-اليسار رمادي-الحق)
يمنع الصيد سلامة كام من فتح بعيداً جداً، مساعدة
ويضاف إلى إبقاء حبل الملتقطة للسلامة
وسوف يستوعب ثقب الثانوي 1 سم في الأسفل ارتباط المسمار لإرفاق aiders، والرافعات، وما إلى ذلك.