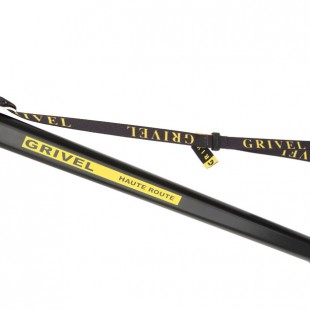 Piolet Grivel 53 cm
Piolet Grivel 53 cm
990.00DH
In Stock: 2 available
Grivel Ice Axe Haute Route
The Grivel Ice Axe Haute Route is specifically designed for ski touring, as it is lightweight and compact while still having a full strength head.
The Haute Route Grivel Ice Axe weighs only 320g so is superlight, hardly noticeable on your pack while skiing. It has a straight "B" rated shaft and a low profile adze, so it is compact while still doing the job. The Grivel Haute Route Axe has a carbon steel head which is very tough and durable. It comes with a leash with integral spike protector.
Haute Route Grivel Ice Axe for ski touring
features
•Material: Carbon steel
•Hot forged head with classic shaped pick and adze
•B rated shaft
•Comes with a leash
Weight:318g
Length:53cm or 58cm
Haute Route de piolet grivel
La piolet de Grivel Haute Route est spécialement conçue pour le ski de randonnée, car il est compact et léger tout en ayant une tête pleine force.
Le piolet Grivel Haute Route pèse seulement 320g est tellement super léger, à peine perceptible sur votre pack en skiant. Il a une droite B évalué l'arbre et une herminette de profil bas, donc il est compact, tout en faisant toujours le travail. Piolet Grivel Haute Route a une tête en acier au carbone, qui est très résistante et durable. Il est livré avec une laisse avec protection intégrale de spike.
Haute Route Grivel piolet pour ski de fond
caractéristiques
•Matériel : acier au carbone
•Châssis forgé tête classique forme pick et herminette
•B Note : arbre
•Comes avec une laisse
Poids : 318 g
Longueur : 53 cm ou 58cm
Grivel piolet Haute Route
La ruta Grivel piolet Haute está diseñada específicamente para esquí de travesía, como es ligero y compacto sin dejar de tener una cabeza llena de fuerza.
La Haute Route Grivel Piolet pesa solamente 320g entonces es superligera, apenas perceptible en la mochila mientras esquiaba. Tiene un recto B clasificada eje y una pala de perfil bajo, así que es compacta mientras sigue haciendo el trabajo. El Grivel Haute Route hacha tiene una cabeza de acero al carbono que es muy resistente y duradero. Viene con una correa con protector integral spike.
Haute Route Grivel piolet para esquí de travesía
características
•Material: acero al carbono
Inserción forjado cabeza con clásico en forma de pico y pala
•B clasificada del eje
•Viene con una correa
Peso: 318 g
Longitud: 53 cm o 58cm
جريفيل فاس الجليد الطريق أوت
الطريق "جريفيل أوت فاس الجليد" مصممة خصيصا لجولة التزلج، كما أنها خفيفة الوزن وصغيرة الحجم في حين لا تزال تواجه رئيس قوة كاملة.
فاس الجليد جريفيل الطريق أوت يزن فقط 320 ز حتى سوبيرلايت، ولا يكاد ملحوظ في حزمة الخاص بك بينما تزلج. قد أ ب مستقيم تصنيفها رمح وأدزي الشخصية منخفضة، حيث أنها مدمجة في حين لا يزال يقوم بهذه المهمة. وقد "فاس الطريق أوت جريفيل" رأس المصنوعة من الصلب الكربوني وصعبة جداً ودائمة. لأنه يأتي مع مقود مع حامي سبايك لا يتجزأ.
هوت "الطريق جريفيل فاس الجليد" للتزلج بجولة
ميزات
•Material: الكربون الصلب
•Hot مزورة الرأس مع الكلاسيكية على شكل بيك وأدزي
•B تصنيفها رمح
•Comes مع المقود
الوزن: 318 ز
الطول: 53 سم أو 58 سم