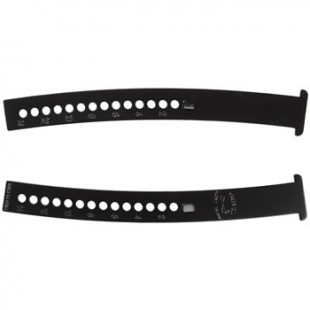 Grivel Long Extension BarBarre de rallonge longue grivelBarra de extensión larga Grivelشريط تمديد فترة طويلة جريفيل
Grivel Long Extension BarBarre de rallonge longue grivelBarra de extensión larga Grivelشريط تمديد فترة طويلة جريفيل
132.00DH
In Stock
The Grivel Long Extension Bar is a 190mm long bar that can increase the size of your crampons so they fit larger boots. The Long Extension Bar is often used to get Grivel Crampons to fit larger ski boots if the standard bar is insufficient.
Length –

190mm
La barre d'Extension longue Grivel est un 190mm long bar qui peut augmenter la taille de vos crampons afin qu'ils coïncident plus grandes bottes. La barre d'Extension longue est souvent utilisée pour obtenir des Crampons Grivel pour s'adapter plus grandes bottes de ski si la barre standard est insuffisante.
Longueur-
190mmLa barra de extensión larga Grivel es un 190mm largo barra que puede aumentar el tamaño de los crampones y calzan botas más grande. La barra de extensión larga se utiliza a menudo para obtener Grivel crampones para adaptarse a las botas de esquí más grande si la barra estándar es insuficiente.
Longitud-
190mmهو شريط تمديد فترة طويلة جريفيل 190mm بار التي يمكن أن تزيد من حجم الأشرطة الخاصة بك حتى أنها تناسب أحذية أكبر بوقت طويل. غالباً ما يستخدم شريط تمديد فترة طويلة للحصول على "الأشرطة جريفيل" لتناسب أحذية التزلج أكبر إذا كان شريط القياسية غير كافية.
الطول-
190 مم