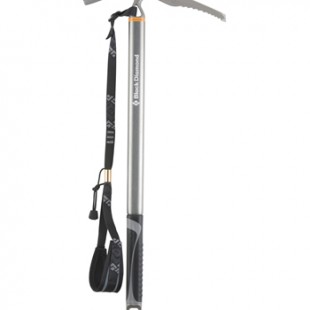 Piolet Black Diamond/ Raven Envy Green 60cm
Piolet Black Diamond/ Raven Envy Green 60cm
990.00DH
In Stock: 1 available
The Black Diamond Raven Grip is a hugely popular walking and mountaineering axe and bridges the gap between being a pure walking axe and a basic climbing tool. The Raven Grip features a single piece cast head unit designed to be comfortable in the hand when plunging the axe and for self arrest. At the base of the shaft the tube tapers to allow for a plastic and rubber grip handle which sits flush with the shaft. This provides the extra grip you need to take the axes onto steeper terrain.
A popular pairing for low grade Scottish winter routes is one short technical axe and a walking axe for the approach: this is a perfect situation for the Raven Grip, offering solid self arresting and trekking performance but capable enough to use on the climb itself. Also useful for those who want an axe for low grade climbing is the included Slider Leash, an excellent basic leash which is easily operated and adjusted with gloves on and quick to release if needs be. The Raven Grip is a brilliant tool for winter walking, alpine mountaineering and ski tourers and mountaineers.
Black Diamond Raven Grip Features
•Investment-Cast, one piece stainless steel head
•Comfortable, dual density moulded grip
•Pick's curve and teeth engineered for self arresting
•Equipped with slider leash
•CEN-C certified
Sam's Comment
Having used walking axes from most of the major brands for winter walking and scrambling in Scotland (up to grade II ground) the Raven Grip is definitely my personal favourite. The biggest advantage of it for me is the comfort of the head-unit when you're carrying the axe just-in-case. With every other axe I've used, when you're carrying it in the self-arrest grip your fingers are uncomfortably wrapped around the shaft so often you end up holding the axes in another, less safe, way just to give your fingers a bit of a break. With the Raven your hand forms a much more comfortable grip around the moulded portion at the top of the shaft. The leash and grip come into their own on short rocky sections and feel reassuringly secure. If had to pick one axe to use for walking, low grade climbing and mountaineering this would definitely be it.
Length Weight
55cm 505g
60cm 520g
65cm 535g
70cm 550gLa poignée de Raven Black Diamond est un marche très populaire et un piolet d'alpinisme et comble le fossé entre une hache de marche pure et un outil fondamental d'escalade. Les caractéristiques de Corbeau Grip une seule pièce cast unité conçue pour être confortable dans la main en plongeant la hache pour l'arrestation. Le tube s'effile à la base de l'arbre afin de permettre une poignée plastique et caoutchouc affleurant avec l'arbre. Ceci fournit la poignée supplémentaire, que vous devez prendre les axes sur les terrains abrupts.
Un appariement populaire pour les routes d'hiver écossais de bas grade est une hache courte de technique et d'une hache de marche pour l'approche : il s'agit d'une situation parfaite pour la poignée de Raven, offrant de solide auto arrêtant et randonnée performance mais suffisamment capable d'utiliser l'ascension elle-même. Aussi utile pour ceux qui veulent qu'une hache pour escalade de bas grade est la dragonne Slider inclus, un excellent laisse de base qui est facilement et ajustée avec des gants sur et rapide pour libérer si doit être. La poignée de Raven est un outil génial pour la randonnée hivernale, alpine alpinisme et ski randonneurs et alpinistes.
Diamant noir Corbeau Grip caractéristiques
•Investissement-cast, tête inox monobloc
•Confortable, poignée moulée double densité
Courbe de •Picks et dents conçus pour arrêter libre
•Equipped avec dragonne slider
•CEN-C certifié
Commentaire de Sams
Ayant utilisé des axes de marche de la plupart des grandes marques pour l'hiver à pied et bousculent en Écosse (jusqu'à la terre de grade II) la poignée de Raven est certainement mon préféré.La empuñadura de Raven Black Diamond es un caminar inmensamente popular y hacha de montañismo y llena el vacío entre ser un puro caminar hacha y una herramienta básica de escalada. Las características de agarre Raven una unidad principal pieza única fundición diseñadas para estar cómodo en la mano cuando sumiendo el hacha y la detención. En la base del eje del tubo disminuye para permitir un mango de plástico y caucho que quede alineada con el eje. Esto proporciona el mayor agarre que usted necesita tomar los ejes más escarpado terreno.
Una pareja popular para las rutas de invierno escocés de bajo grado es un hacha técnica corta y un hacha de pie para el enfoque: esta es una situación perfecta para el agarre de Raven, ofreciendo uno mismo sólido arrestando y trekking rendimiento pero lo suficientemente capaz para utilizar en la subida propia. Es también útil para aquellos que quieren que un hacha para subir de grado bajo es la dragonera Slider incluido, una excelente correa básica que es fácilmente operada y ajustada con los guantes en y rápida para liberar si necesario. El agarre de Raven es una excelente herramienta para invierno senderismo, montañismo alpino y esquí tourers y montañeros.
Diamante negro cuervo agarre características
•El-cast, cabezal de acero inoxidable de una sola pieza
•La, empuñadura moldeada de doble densidad
Curva •Picks y dientes diseñados para arrestar a uno mismo
•Equipado Dragonera slider
•CEN-C certificado
Comentario de Sams
Haber utilizado pocos hachas de la mayoría de las marcas más importantes para el invierno caminando y luchando en Escocia (hasta tierra II grado) la empuñadura Raven es definitivamente mi favorito personal.هو المشي بشعبية كبيرة وتسلق الجبال فاس قبضة الغراب الأسود الماس ويسد الفجوة بين كونه فاس مشى نقية وأداة أساسية لتسلق. ميزات "الغراب قبضة" وحدة رأس المدلى بها قطعة واحدة مصممة لتكون مريحة في اليد عندما تغرق في الفأس، والقبض على النفس. في قاعدة رمح الأنبوب التناقص التدريجي للسماح مقبض قبضة البلاستيك والمطاط الذي يجلس الإحمرار مع الرمح. وهذا يوفر قبضة إضافية التي تحتاج إلى أن تأخذ المحاور على التضاريس أشد انحدارا.
زوج شعبية لدروب الشتاء اﻻسكتلندي الدرجة المنخفضة هو فاس التقنية قصيرة واحدة وفاس سيرا على الأقدام للنهج: هذا وضع مثالي "قبضة الغراب"، تقدم النفس الصلبة القبض والرحلات الأداء ولكن قادرة على استخدام على تسلق نفسها. مفيدة لأولئك الذين يريدون بفاس لتسلق درجة منخفضة هو "المقود منزلق" تدرج، مقود أساسية ممتازة التي تعمل بسهولة وتعديلها مع قفازات على وسريعة الإفراج عن إذا كان يحتاج أيضا يكون. قبضة الغراب أداة رائعة للشتاء المشي وتسلق جبال الألب والتزلج توريرس ومتسلقى الجبال.
ميزات الغراب قبضة الماس الأسود
•Investment–المدلى بها، رئيس واحد قطعة الفولاذ المقاوم للصدأ
•Comfortable، الكثافة المزدوجة مصبوب قبضة
منحنى •Picks والأسنان إجراء هندسة عكسية لإلقاء القبض على النفس
•Equipped مع المقود المنزلق
•CEN-ج معتمد
تعليق سامز
هو "قبضة الغراب" بالتأكيد المفضلة الشخصي بعد استخدام محاور قريبة من معظم العلامات التجارية الكبرى للشتاء والمشي والهرولة في اسكتلندا (حتى الصف الثاني الأرض).