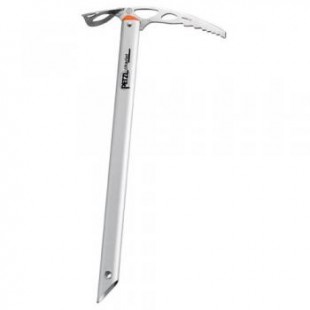 Piolet Petzl Snowalker66cm
Piolet Petzl Snowalker66cm
880.00DH
In Stock: 5 available
Petzl SNOWRACER
The Petzl Charlet Snowracer Axe is their lightest ice axe for hiking, ski touring, alpine skiing and expeditions. This is the lightest ice axe in the Petzl Charlet product line however its construction ensures that its lightness does not come at the expense of efficiency.
The hollow shaft is plugged to prevent snow from getting in, the thin blade (4mm) has also been lightened but uses the same steel as the Quark to guarantee strength and solid anchoring in the ice, the lightened adze resembles a hollowed chisel, and the blade teeth are rounded to improve comfort in handling.
Petzl Charlet Snowracer Axe Features
•4 mm toothed pick made of Charlet steel: durable
•Durable Charlet steel adze, contoured for hand. Efficient for chopping steps
•Head, adze and pick with cut-out profile for weight saving
•Pick equipped with hole for clipping a carabiner or attaching a sling
•High strength 7075 aluminum shaft, anodized for corrosion protection
•Beveled spike, plugged to prevent snow build-up inside shaft
•CEN-B certified
Height:50cm
Weight:340gPetzl SNOWRACER
Ax léger pour le ski alpinisme et d'escalade lumière
Les 50 cm ultra-léger (340 g) SNOWRACER est le choix parfait pour le ski de randonnée, snowboard chutes abruptes et escalade rapide et léger. Comporte le même choix et herminette comme le SNOWALKER pour une utilisation à haute performance dans la neige et la glace. Le manche en aluminium avec embout biseauté est branché pour éviter l'accumulation de neige dans l'arbre.
Lame dentée de 4 mm en acier Charlet, robuste, fonctionne bien dans les deux neige et la glace
Durable acier Charlet herminette, profilée pour le confort de la main. Efficace pour hacher étapes.
Head, panne et lame profil découpe pour un poids réduit
Lame avec un trou pour un mousqueton ou d'une sangle
Arbre d'aluminium haute résistance (aluminium 7075, le même que celui utilisé dans l'industrie aérospatiale) anodisé pour la protection anticorrosion
Biseauté pointe, branché pour éviter l'accumulation de neige à l'intérieur de l'arbrePetzl SNOWRACER
El Petzl Charlet Snowracer hacha es su piolet ligero para practicar senderismo, esquí de fondo, esquí alpino y expediciones. Esto es el piolet ligero en la línea de productos Petzl Charlet sin embargo su construcción asegura que su ligereza no viene a expensas de la eficiencia.
El eje hueco está conectado para impedir que nieve, la lámina fina (4mm) también ha sido aligerada pero utiliza el mismo acero como el Quark para garantizar fuerza y el piolet aligerado sólido anclaje en el hielo, se asemeja a un cincel hueco y dientes de la hoja se redondean para mejorar el confort en el manejo.
Petzl Charlet Axe Snowracer características
•4 mm dentado pico de acero Charlet: durable
•Artículo Charlet acero Azuela, contorneada por mano. Eficiente para picar pasos
•Procesos, pala y pico con el perfil de recorte para el ahorro de peso
•Pick equipado con agujero para el recorte de un mosquetón o colocar un cabestrillo
Eje de aluminio 7075 de alta resistencia, anodizado para protección contra la corrosión
•Beveled spike, tapado para evitar la acumulación de nieve dentro del eje
•CEN-B certificado
Altura: 50 cm
Peso: 340 gسنووراسير Petzl
فاس سنووراسير تشارليت Petzl هو بفاس الجليد الأفتح للمشي لمسافات طويلة، وجولة التزلج والتزلج على جبال الألب والحملات. هذا هو فاس الجليد الأفتح في السطر المنتج تشارليت Petzl ولكن بنائه ويضمن أن لا يأتي على حساب الكفاءة خفة.
رمح مجوف موصول إلى الحيلولة دون الحصول على الثلج وشفرة رقيقة (4 ملم) قد تم تفتيحها أيضا ولكن يستخدم الفولاذ نفسه الكوارك لضمان قوة والصلبة رسو في الجليد، يشبه adze يخفف ازميل مجوفة، ويتم تقريب الأسنان بليد تحسين الراحة في التعامل.
ميزات فاس سنووراسير تشارليت Petzl
• 4 مم المسننة مصنوعة من الفولاذ تشارليت بيك: دائم
•Durable أدزي تشارليت الصلب، أحيط لليد. كفاءة لتقطيع الخطوات
•Head، أدزي، وبيك مع الشخصية خفض التدريجي لإنقاذ الوزن
•Pick مجهزة بثقب للقطع carabiner أو إرفاق حبال
أكسيد •High قوة رمح الألمنيوم 7075، للحماية من التآكل
توصيل سبايك •Beveled، منع تراكم الثلج داخل المنجم
•CEN-ب معتمد
الطول: 50 سم
الوزن: 340 غ