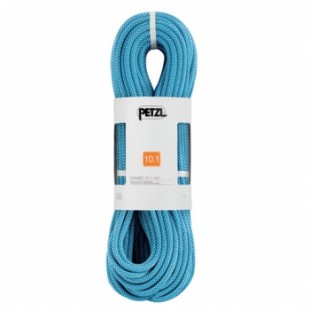 Ropes 10.1mmCordes 10.1mmCuerdas 10,1mmالحبال 10.1 ملم
Ropes 10.1mmCordes 10.1mmCuerdas 10,1mmالحبال 10.1 ملم
1,012.00DH
Out of Stock
MAMBO 10.1 mm/50Metres
10.1 mm diameter single rope for gym or crag climbing
The MAMBO 10.1 single rope has a 10.1 mm diameter for greater versatility and ease of use in the gym or at the crag. This rope has a thick sheath for greater durability and better control.
Diameter appropriate for gym or crag use
Greater longevity and ease of use:
– thick sheath provides excellent abrasion resistance
– UltraSonic Finish: the core and the sheath are bonded together at the rope ends by an ultrasonic process called UltraSonic Finish; gives greater durability and avoids frayed ends
– ClimbReady coil: specific coil makes the rope ready for use; helps the user avoid initial uncoiling mistakes and increases longevity
More effective belaying:
– low static and dynamic elongation
– diameter facilitates belay device usage
– Middle Mark: indicates the middle of the rope to facilitate maneuvers
– EverFlex treatment: special thermal treatment stabilizes the core strands and improves consistency; offers excellent grip and consistent handling over time.
Reference(s) R32AB 060
Color(s) blue
Length 60 m.MAMBO 10,1 mm
corde simple de 10,1 mm de diamètre pour la gym ou le rocher d'escalade
La corde simple de MAMBO 10.1 a un diamètre de 10,1 mm pour plus de polyvalence et de facilité d'utilisation dans la salle de gym ou à la falaise. Cette corde a une gaine épaisse pour une plus grande durabilité et un meilleur contrôle.
Diamètre approprié pour une utilisation de gym ou rocher
Une plus grande longévité et facilité d'utilisation :
-gaine épaisse offre une résistance excellente à l'abrasion
-Finition ultrasonore : le cœur et la gaine sont collées ensemble à l'extrémité de la corde par un processus ultrasonique appelé finir par ultrasons ; donne une plus grande durabilité et évite les bouts effilochés
-ClimbReady bobine : bobine spécifique rend la corde prête à l'emploi ; aide l'utilisateur à éviter les erreurs initiales de déroulage et augmente la longévité
Assurage plus efficace :
-faible allongement statique et dynamique
-diamètre facilite l'utilisation du périphérique Bensimon
-Moyen-marque : indique le milieu de la corde pour faciliter les manœuvres
-EverFlex traitement : traitement thermique spécial stabilise les brins du cœur et améliore la cohérence ; offre excellente préhension et manipulation cohérente au fil du temps.
Références R32AB 060
Couleur bleue (s)
Longueur 60 m.MAMBO 10,1 mm
10,1 mm diámetro de la sola cuerda para gimnasio o peñasco escalada
El MAMBO 10.1 sola cuerda tiene un diámetro de 10,1 mm para una mayor versatilidad y facilidad de uso en el gimnasio o en la Peña. Esta cuerda tiene una gruesa envoltura para una mayor durabilidad y un mejor control.
Diámetro apropiado para el uso del gimnasio o peñasco
Una mayor longevidad y facilidad de uso:
-gruesa envoltura proporciona resistencia de abrasión excelente
-Ultrasonido final: el núcleo y la envoltura son pegadas en los extremos de la cuerda por un proceso ultrasónico llamado final ultrasónico; da mayor durabilidad y evita los extremos pelados
-ClimbReady coil: bobina específica facilita la cuerda listo para su uso; ayuda al usuario a evitar errores iniciales desenrollamiento y aumenta la longevidad
Aseguramiento más eficaz:
-baja elongación estática y dinámica
-diámetro facilita el uso del dispositivo de aseguramiento
-Media Mark: indica el medio de la cuerda para facilitar las maniobras
-EverFlex tratamiento: tratamiento térmico especial estabiliza los hilos de núcleo y mejora la consistencia; ofrece un excelente agarre y manejo consistente en el tiempo.
Referencias R32AB 060
Colores azul
60 m de longitud.مامبو 10.1 ملم
10.1 ملم قطر حبل واحد للصالة الرياضية أو حنجرة التسلق
حبل واحد 10.1 مامبو التي يبلغ قطرها 10.1 ملم لزيادة مرونة وسهولة الاستخدام في صالة الألعاب الرياضية أو في عنق. وقد هذا الحبل غمد سميكة لمزيد من المتانة والتحكم بصورة أفضل.
القطر المناسب لاستخدام الصالة الرياضية أو حنجرة
زيادة طول العمر وسهولة الاستخدام:
-يوفر غمد سميكة مقاومة التآكل ممتازة
–إنهاء الموجات فوق الصوتية: الأساسية والغمد مستعبدين معا في نهايات الحبل قبل عملية الموجات فوق الصوتية يسمى "الانتهاء" بالموجات فوق الصوتية؛ يعطي مزيد من المتانة ويتجنب ينتهي المتوترة
-لفائف كليمبريدي: لفائف محددة يجعل الحبل جاهزة للاستخدام؛ يساعد المستخدم تجنب الأخطاء أونكويلينج الأولية ويزيد من طول العمر
جلستك أكثر فعالية:
-انخفاض استطالة ثابتة وديناميكية
-القطر يسهل استخدام الجهاز بيلاي
–الأوسط مارك: يشير إلى منتصف الحبل تسهيل المناورات
-افيرفليكس في المعاملة: معاملة حرارية خاصة تستقر الخيوط الأساسية وتحسين الاتساق؛ ويوفر قبضة ممتازة ومعالجة متسقة مع مرور الوقت.
Reference(s) R32AB 060
الأزرق لون (لونان)
طول 60 مترا.