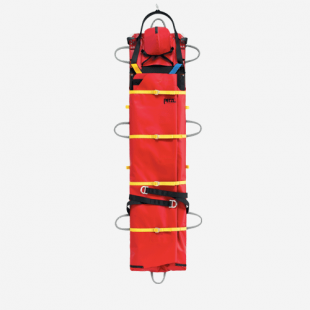 Stretcher – Rent per week Civière Camilla نقالة
Stretcher – Rent per week Civière Camilla نقالة
990.00DH
In Stock
Stretcher Rent 90 Euro per Week / Sales 2000 Euro.
Stretcher suitable for use in confined spaces
Allows the victim to be transported horizontally, vertically or at an angle, to adapt to irregular or narrow terrain
Litter has a complete body harness integrated in it to secure the victim. Color coded to avoid any installation error
Self-locking DoubleBack buckles for quick and easy strap adjustment
• Smooth, rigid plastic bottom ensures good sliding
Foam padding provides comfort for the victim's back
Rigid stays can be removed to reduce bulk when accessing accident site
Optional accessory: STEF inclination device allows the litter to be easily tilted according to the terrainCivière loue 200 euros par semaine ventes 2000 euros.
Litière pour espaces confinés
 Permet à la victime à être transporté horizontalement, verticalement ou obliquement, de s'adapter aux terrains irréguliers ou étroit
Litière a un harnais complet intégré dedans pour garantir à la victime. Couleur codée pour éviter toute erreur d'installation
Boucles DoubleBack autobloquantes pour réglage de sangle rapide et facile • lissent, fond en plastique rigide assure la bonne glisse
Rembourrage de mousse est un hôtel confort pour les victimes de retour
Séjours rigides peuvent être enlevés pour réduire en vrac lors de l'accès au site de l'accidentCamilla alquile de 200 euros por semana ventas 2000 euros.
Camada para espacios confinados
Permite a la víctima para ser transportadas horizontalmente, verticalmente o en ángulo, para adaptarse al terreno irregular o estrecho
Camada tiene un arnés de cuerpo completo integrado, para asegurar a la víctima. Color cifrado para evitar cualquier error de instalación
Hebillas autobloqueantes DoubleBack para correa de fácil y rápido ajuste • liso, rígido plástico inferior asegura buen deslizamiento
Acolchado de la espuma proporciona comodidad para las víctimas atrás
Estancias rígidas pueden ser retiradas para reducir a granel en el acceso a sitio de accidente
Accesorio opcional: dispositivo de inclinación STEF permite la basura para ser fácilmente inclinado según el terrenoنقالة الإيجار 200 يورو لكل أسبوع المبيعات 2000 يورو.
القمامة للأماكن الضيقة
يسمح للضحية بنقلها أفقياً أو عمودياً أو بزاوية، أن تتكيف مع التضاريس غير المنتظمة أو ضيقة
وقد القمامة تسخير هيئة كاملة متكاملة في مجال تكنولوجيا المعلومات ضمان الضحية. لون مرمزة لتجنب أي خطأ في التثبيت
الأبازيم دوبليباك تأمين ذاتي لحزام سريعة وسهلة التكيف • على نحو سلس، ويضمن أسفل البلاستيك الجامد انزلاق جيدة
الحشو رغوة يوفر الراحة للضحايا مرة أخرى
يمكن إزالة يبقى جامد الحد الأكبر عند الوصول إلى موقع الحادث
ملحق اختياري: STEF ميل الجهاز يسمح القمامة أن يميل بسهولة حسب التضاريس