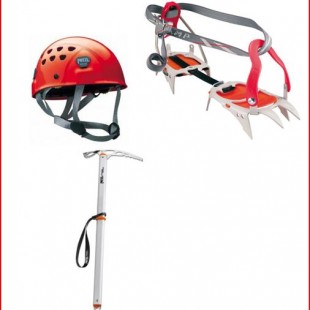 Basic Winter Hire Package-Hire per day
EUR 15.00
In Stock
This is a kit package for Winter Walking – Easy Mountaineering – Snowline Walking – Ski Touring or Glacier Trekking.
The Salewa Crampons are designed for ice and snow travel, both he lightweight Aguille 2.0 Walk Antiboot crampon and the Alunal equivalent are ideal for mountaineers, skiers and hikers. The stainless steel construction won't rust and avoids environmentally toxic coatings that wear off in the mountains. The compact, 12-point design offers easy walking, while the fast-adjust attachment system accommodates almost any footwear. ABS plates included.
For glacier travel and snow slopes, the lightweight Tour-X Pro ice axe is the axe to have. The stainless steel pick is designed for solid placements even in hard snow and soft ice. The wide adze chops steps efficiently and provides a comfortable weight-bearing surface. The anodized shaft is made of high quality, durable 7075 aluminum. A Rando leash is included with the Ice Axe.
The Salewa Toxo 2.0 Helmet is the standard

Payment for the hire cost must be made via Paypal to secure your reservation and the refundable deposit (an amount equivalent to the Atlas Extreme sale price of the item) can either be made via Paypal or in cash when you collect/return the hire equipment unless are collected by a local guide and guaranteed by the guide for safe return .
Indicate the number of days you wish to hire the item by adding the item multiple times (equivalent to number of hire days) to the shopping cart.
Please specify the start date and preferred pick up time for your equipment hire in the notes section of Checkout.
If you wish to hire multiple items please place multiple hire orders.